Wednesday WarpedBlogging VI
English teachers of America – rejoice! Glory, glory hallelujah, this week's round of literate WarpedBloggers is so whopping, so wide, so welcome, so worldly, so worthwhile, so wonderful, we have to give them the respect they deserve and make them world-known. Or at least our-little-corner-of-the-world-known. I actually had a hard time this week wading through them all. And because I recognize that this is starting to get worthless, wearisome and worn, I promise to stop using "w" words in my opening sentence from now on.
I like
shadows_of_noir
. Not only does this blogger think for themself, but they also explain what on earth that graphic is on the upper right hand corner of the Warped Tour website. I always wondered what that was. These tired old eyes just couldn't make it out. Please tell me I'm not the only one who looked at this: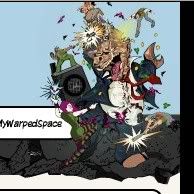 and thought, "huh"?
It's interesting to see the themes running through people's posts each week. This week's theme is sweat, cultures and the F-word.
Between the downpour and other's people's sweat,
Marcy
had a very wet day.
Apryl
endured the heat and sweat as well, along with body-modification-profiling from the border guard. However she stereotypes on her own by stating that all Americans are obsessed with cute people who speak French. Oh, OK. She's right. J'aime les hommes beaux qui parlent français. Toutefois les hommes beaux qui parlent français ne m'aimeraient pas probablement, parce que je ne peux pas parler français sans aide de BableFish. Et je donne la permission complète à tous les bloggers de langue française au rire de façon hysterique chez cependant BableFish a déformé cette phrase. Le seul Français je peux dire couramment quand je vais à Montréal est, "excusez-moi, où sont les salles de bains?"
Also soaked with sweat were
Tim
and
Zach
who went together, and really f*cking hate it when f*cking bands use the f*cking F-word in every f*cking sentence. The last line in Zach's third paragraph had me cracking up. Really. What the f*ck.
I don't know where Bumblef*ck, Indiana is, but they raise some very nice people there, like the gentleman who found
Caitlin's
cell phone and called her mom to return it. Sadly there was some trouble at the Taco Bell afterwards from someone obviously
not
raised in Bumblef*ck.

Breaking out of the themes of swearing, sweating or profiling,
McDiggity
dropped $40 while searching for a friend who was without cell phone for the day. I can vouch from personal experience that the worst part of trying to catch up with a lost companion at Warped Tour is the loss of money. Them darn merch booths; they'll get you every time.
And my favoritest WarpedBlogger of the week is cool mom
Trish
, who is the mother of not only the happiest 10 year old last week, but the happiest 10 year old who's also one killer artist.
As far as Warped Photobloggers,
Gabe
has some nice photos of the teeming mob. And not only does EvilMonkeyCult sound like the type of religion that I'd like to join, it's member
Luke
has some great movies and pictures of the day as well.
Who's blogging on the other end of the stage? The lovely and talented
Eternia
blogs her soul with the same honesty that makes her music so damned, well, honest.
Lots of discussion this week on differences and cultures. If I believed in astrology, I'd say there was something in the stars. I could write something meaningful and unifying on all of this, but I'm just not that deep of a person. I'll just end where this all began, with the first WarpedBlogger,
Captain Dan
. I love this blog and always have a hard time trying to decide which of the week's posts I'll write about. This week's was easy. This post covers neither sweat nor the ubiquitous F-word, but is behind the scenes look at the E.I.Y Culture. Very, very interesting.
That's all for now kids. There are so many more but I've been pretending to work long enough, and have to get back to my real job. It was a hard choice deciding who to put in, and I had to cut a lot out of my list simply for the time factor. I could have made this post twice as long, really.

Happy Wednesday!